MolGen Lab Minis
MolGen Lab minis are small essential laboratory equipment, such as Vortexes, shakers, mixers and centrifuges. Every unit has its unique characteristic for different applications. For DNA laboratories, microbiology labs, organic labs, any labs where there is research – laboratory equipment like centrifuges, vortexes, etc., lab minis are must-haves.
Minilab equipments are smaller versions of their larger counterparts. They tend to be used as substitutes for larger pieces of laboratory equipment such as centrifuges or vortexes.
Their key advantages include their portability and low cost. In addition, they are easy to carry around, and they do not require much space. Besides these features, at MolGen, we offer accessible customer service for each and every one of our clients.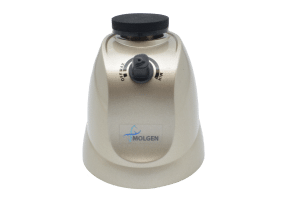 The MolGen Lab Mini Vortex is an excellent choice if you're looking for a small but powerful vortex mixer at an affordable price. There is always a vortex mixer in each laboratory. It increases the efficiency in the lab by powerful vortexing for small-sized tubes up to 15 ml. Its maximum rotational speed is 2000 RPM. The Lab Mini Vortex is designed for quick experiments in any lab with its small size. It's simple enough to operate but powerful enough to get results.
A vortex mixer is a widespread product when it comes to lab equipment. But with the top-notch innovative thinking of MolGen team, there is always something extra, such as the blue rubber adaptor.
When using our standard vortex mixer, we discovered that the platform could have been even more conical for higher efficiency in proceeding with the tubes. As such, we had our 3D printer operator print out a design for us, which was then used to create an adapter. We then tested our vortex mixer with its added blue plastics adaptor on the research and development laboratory, which proved to be even better. As a next step to improving the blue vortex adaptor, a better fit would be rubber rather than plastic. For each Vortex we sell, we add an extra MolGen Blue Adaptor Plate so that it is even easier to use. We have a high-quality product with lots of flexibility thanks to our thirst to innovate!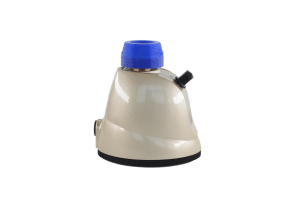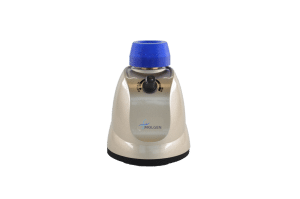 Innovation is in the DNA of MolGen!
 This is a really interesting high-end lab equipment product, but then also bears something that is very accessible. So having an affordable product and then making its higher-end can be challenging, but it is possible at MolGen!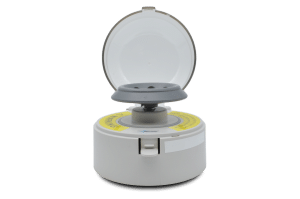 A laboratory centrifuge is a piece of lab equipment used for spinning liquids at high speeds. Depending on the type of centrifuge used, there are different sizes available for use.
The MolGen Lab Mini Centrifuge is a compact and cost-effective personal mini centrifuge. It has two quick-release interchangeable rotor heads for tubes or PCR strips; one head can be used for both types of devices.
The operator can select two-speed options (4.000 rpm and 6.000 rpm). The electronic braking system helps ensure a fast and smooth slowing down. Its composite shell makes it resistant to shattering; its electronic braking system allows for rapid sample processing.
Furthermore, its quick-release rotor system makes it easier for you to switch between rotors. It comes with two-speed settings: 4k and 6k rpm. With its dual fast release rotors, it's easy to change between different tube sizes without having to remove the cap.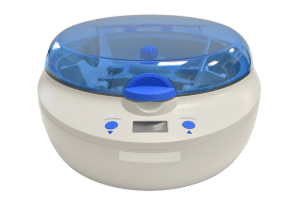 In addition to its versatility, the unique design of the MolGen Lab Plate Centrifuge makes it ideal for horizontally rotating samples. It can quickly spin down droplets and condensation and is helpful before and after thermal cycling to improve the PCR yield. The Lab Plate Centrifuges combine functionality, ease of use, and comfort into one compact footprint with its small size, easy operation, and comfortable design.
A single button makes the process intuitive and straightforward. Its sleek, compact size allows it to fit easily into any lab space. And its unique, streamlined design features an attractive appearance with a clear top cover for viewing the rotor during rotation.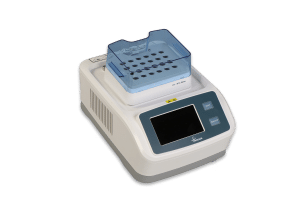 The Lab Thermo mixer is a shaker/incubator for easy programming various combinations of excellent mixing and incubation to improve your assay results by mixing and incubating samples simultaneously. Its features such as easy handling, high efficiency, low energy consumption, and long service life make it suitable for various applications, including research laboratories, biotechnology companies, pharmaceuticals, clinical testing centres, and hospitals. In addition, different program editing options such as shaking start time, cycle steps, heating rate, etc., help find the best experimental conditions.
For convenient use, the module replacement method only needs to turn the module handle to replace modules quickly. In addition, new Thermo lid accessories with a magnetic port design can effectively improve the temperature uniformity in the test tube. This avoids liquid evaporation and condensation, thus eliminating the changes in the concentration of reagents. It has microprocessor controls for precise temperature regulation and fast mixing speeds. The built-in safety thermometer ensures that the device is protected against overheating during operation.
Features:
High Efficiency
Precise Temperature Control
Easy Operation
Long Service Life
Programmable Start Time
Programmable Cycle Steps
Programmable Heating Rate
Programmable Shaking Speed
Built-in over-temperature protection
It comes equipped with a DC motor speed control circuit with long service life and no maintenance required. It has full power heating for even heat distribution throughout the entire chamber. You can customize it with different blocks. Its 4.2-inch colour TFT LCD screen displays make it quite intuitive and easy for you to use. Additionally, there is a thermal sliding top in the best tube for high temperatures.
If you want to know more about our Lab Minis check out our lab equipment page or contact us for more information.
 
DM CORP 0006   v1.0   30-DEC-2021